VOICES Multicultural Chorus
Artistic Director
Lorrene Adams, Artistic Director
Lorrene Adams, Artistic Director of VOICES Multicultural Chorus, is a member of the music faculty at Lansing High School.  In addition to teaching introductory and AP music theory, she gives voice lessons, directs the school's Mixed Chorus, Varsity Chorale and Show Choir, and is the Music Director and Conductor for the annual school musical.  Prior to coming to Lansing, she led a similar position in Corning, New York.
As an advocate for the proliferation of high-quality choral music for high school students, Adams has commissioned and premiered choral works from composers Jonathan Santore, Rick Barlett, Peter Rothbart and Mark Van DeWater.  She also conducted the New York state premiere of Dominic Argento's Walden Pond.  Her performing ensembles receive Outstanding ratings at state adjudications.
Lorrene is also dedicated to the continuance of strong music education and has worked as a mentor to Ithaca College teacher candidates for twenty years and is currently serving on the Ithaca College Unit Education Advisory Board.
A summa cum laude graduate of Ithaca College with an M.M in conducting, Adams encourages collaborations between high school and community groups and life-long involvement in music. She strongly believes that choral singing strengthens communities and enhances personal mental, emotional and physical health.  VOICES Multicultural Chorus gives testimony to her beliefs and inspires her each time she steps in front of the group. Adams has been called 'the best kept conducting secret' in Ithaca.
Associate Director
Ross Mizrahi, Associate Director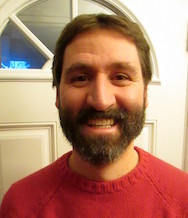 Ross holds Bachelor and Master of Arts degrees in music education from Ithaca College.  With 13 years of directing and teaching experience, he currently is general music teacher for Belle Sherman Elementary School in Ithaca.  An accomplished singer in his own right, he for three years was singer and educational coordinator with "Sons of Pitches" performing in hundreds of venues all over the Northeast.
Accompanist
Rachel Hidlay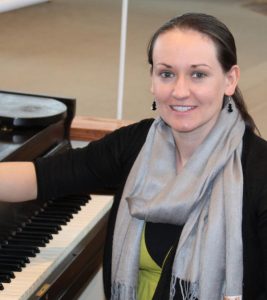 Rachel began piano lessons when she was six years old. Since then she has come to love making and sharing music with others. At the age of sixteen she was hired as a piano instructor at Bloomsburg University in the Piano Preparatory Department. Shortly after this she opened a private studio in her home.  She holds a Bachelors degree in piano performance with extra credits in music education from Liberty University, as well as a Masters degree in piano performance from Ithaca College where she studied with Dr. Jennifer Hayghe. She is currently completing an advanced certification in piano pedagogy.
Rachel teaches students of all ages and skill levels. She held teaching positions at Nazareth College, Ithaca college, the Community Music School in Ithaca Ny and the St. Peters Community Arts Academy in Geneva NY. She currently maintains a private studio of 40 plus students in her home. Rachel also is on staff as an accompanist for Lansing School District  and is the accompanist for Voices Multicultural Chorus which is apart of Ithaca Community Choruses.
Rachel loves all facets of music. She strongly believes music making/learning is a wonderfully unique journey. It is one that can enlighten, and enrich a person's life. She greatly enjoys helping others navigate their personal musical experiences.